Dogs Currently For Adoption
Our team is taking a much needed break so please be aware adoptions will not be taking place from 15 December 2023 to 15 January 2024
We want to ensure our dogs have a good start to their new lives, and a hectic christmas period is not the best, so they'll be hanging with us until 2024 and we start up again.
You are still welcome to apply but these will not be processed until we return.
Please Note:
We try to keep this as up to date as possible, however sometimes time constraints make that hard. If you have seen a dog on our Facebook page and they are not featured here as yet you are still able to fill out our online application form and we can assess.
Please ensure all applications are completed on this form, as we cannot conduct adoptions via Facebook, messenger or phone.
If you would like to check out our adoption criteria or FAQs, click HERE
All information on the dogs are accurate as at the time of application, however please be aware that as time goes on and learn more about them this could change, which will also mean what their ideal home looks like may change also. If you have applied you will be advised of this fact.
PLEASE BE PREPARED TO ATTEND A MEET AND GREET ON A SATURDAY OR SUNDAY IN AUCKLAND, AND ENSURE YOU ARE READY TO TAKE ON A DOG BEFORE APPLYING.
Click on the dogs pictures to see their profiles and the homes they are looking for
Please click the link below or adoptions@chaineddog.org.nz for an application pack. We do NOT accept applications via text, Facebook or phone. Please do not contact our foster parents or trainers directly. Our adoptions are run via the official application process, and if this is not followed it will deem your application null and void.

If you adopt through CDRRNZ, we provide a lifetime support system. If you need advice on food, behaviour, anything...we are here to help. We also have a Facebook Parents Group so you can connect with other wonderful people who make the decision to take one of our incredible dogs into their home.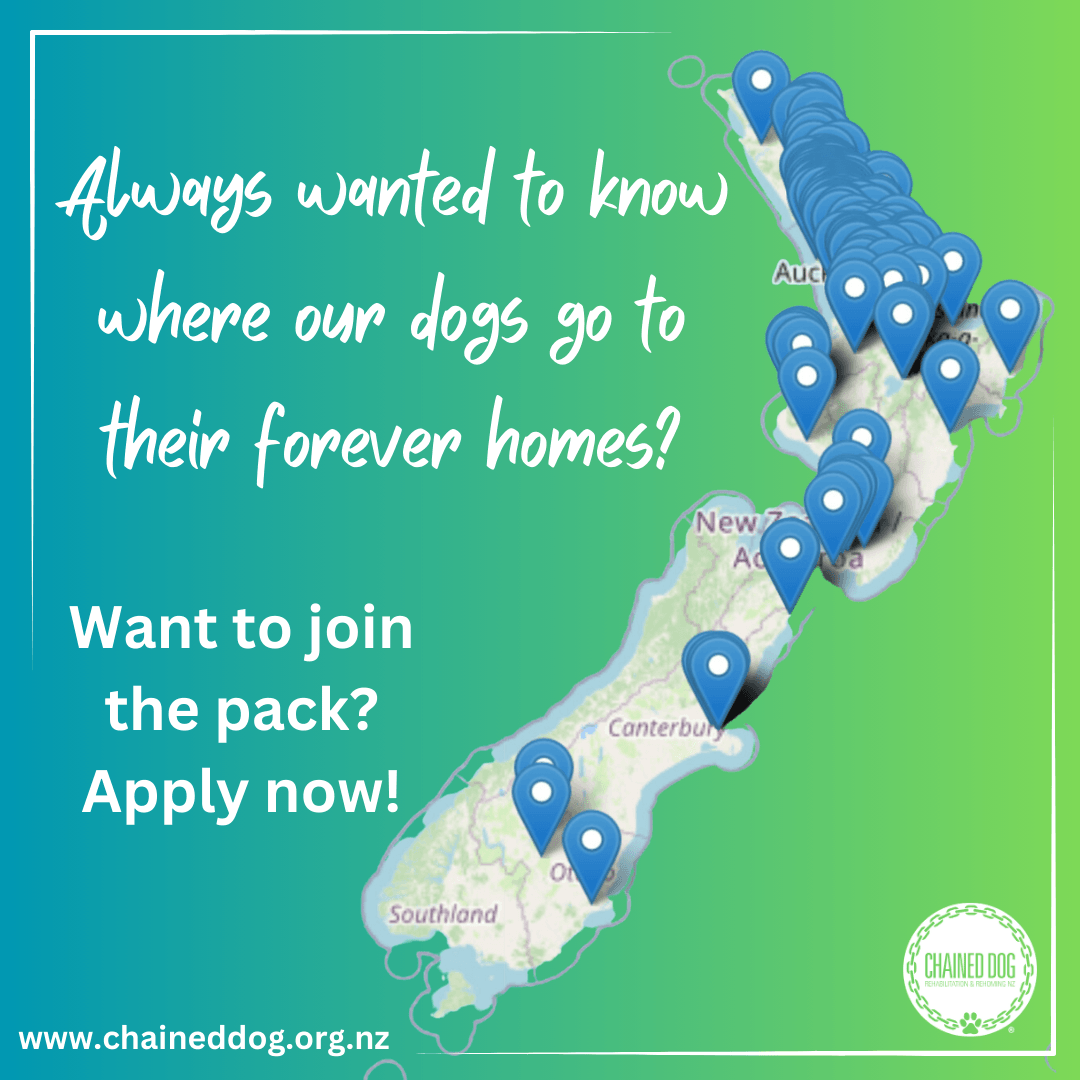 Note Please: If you have applied to adopt in the last 6 months and your details have not changed, we do not require a new application to be filled in. Please email adoptions@chaineddog.org.nz and advise us you have previously applied, and what dog you would like to apply for.
We work with, and support, some incredible shelters and rescues around New Zealand and we want to share some of the dogs they have for adoption.
Although we might not have the right dog for you, someone here might. Click their picture to find out more, and how to apply!
Auckland Council Shelters
The Auckland Council Shelters do an incredible job of rehoming as many dogs as they can.
If we don't have the right dog for you, check them out!
Check them out on the link below.
Success Stories
In the words of our adopters