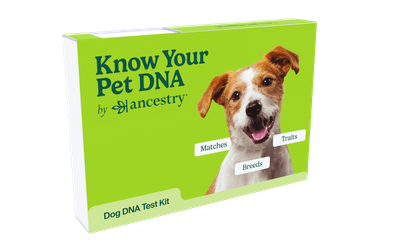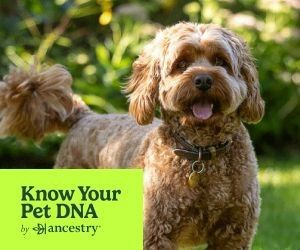 Ancestry Pet DNA Kit
$170.00
Discover your dog's DNA story.
The Ancestry.com dog DNA test kit will be delivered straight to your door—with everything you need to easily (and gently) collect a saliva sample, plus a secure prepaid box to send it back to Ancestry.com. The scientists at Ancestry® will get to work using our cutting-edge DNA science to provide you with a full report on your best friend.
What's in a breed?
Ancestry.com test your dog's DNA against over 400 breeds.
A breed is a group of dogs that descend from a shared lineage. They're formed over hundreds of years as dog owners choose specific traits, physical features, and temperaments to pass down to new generations. Now, there are hundreds of breeds with their own characteristics and origins.
Knowing more about these genetic roots can tell us a lot about a dog's health, temperament, and appearance.
That's why Ancestry.com developed the Know Your Pet DNA test. We want to help you get to know your companion even better than you already do.
What makes your dog, your dog?
Genetic traits can determine the appearance, behavior, and development of your canine companion. Know Your Pet DNA by Ancestry® can help you identify your dog's genetic traits and make sense of them.
Find Your Canine Community
When Ancestry.com process your dog's DNA, we'll compare it to other dogs in our extensive doggy database. If they find any close genetic matches, we'll let you know - and you can explore your dog's extended family.
Learn more HERE
Ancestry.com are collaborating with Massey University right here in New Zealand, and the University of Minnesota.
SKU: 10000-23