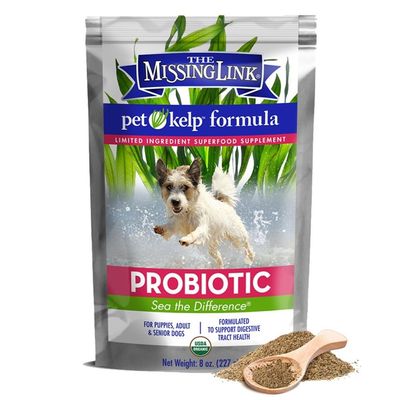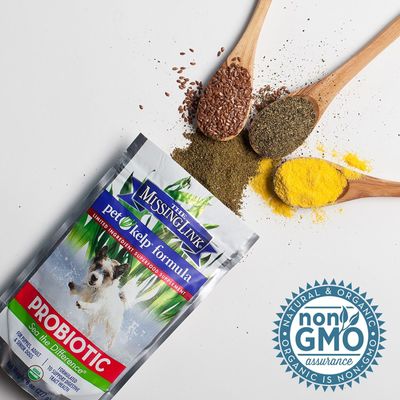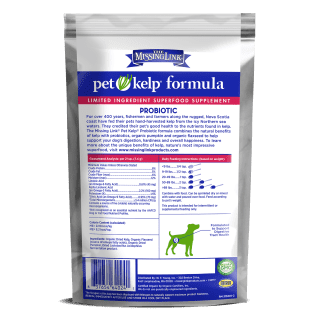 Pet Kelp Probiotic
$28.00
DESIGNED TO PROMOTE INTESTINAL HEALTH, PET KELP PROBIOTIC FEATURES PREBIOTIC INULIN COMBINED WITH FOUR STRAINS OF PROBIOTICS (AT 20 BILLION CFUS/ GRAM).
Our specially developed prebiotic/ probiotic formula is then blended with our nutrient-rich kelp blend to create a daily supplement that tastes good and is good for them. Appropriate for all dogs and cats where the goal is to build or maintain intestinal health.


INGREDIENTS:
Dried kelp, organic flax seed, inulin, dried Lactobacillus acidophilus fermentation product, dried Lactobacillus casei fermentation product, dried Lactobacillus plantarum fermentation product, dried Enterococcus faecium fermentation product.


FEEDING DIRECTIONS:
We recommend combining Pet Kelp with your pet's daily food. For moist food, mix Pet Kelp directly with food. If using dry food, mix Pet Kelp with enough water to create a liquid mixture and pour the mixture over the dry food. Give Pet Kelp to your pet according to its weight.
This package contains approximately 80 teaspoons of Pet Kelp.
DAILY SUGGESTED USE:
Animal Weight 4kg or less (9 lbs or less) - 1/4 tsp 4.5-9kg (10-19 lbs) - 1/2 tsp 10-22kg (20-49 lbs) - 1 tsp 23-40kg (50-89 lbs) - 2 tsp 41kg and over (90 lbs +) - 3 tsp
SKU: 10000-94